ABOUT LENNY
Success Without Vision - This is my story of a successful life while dealing with blindness.


My Stories

Be Careful What You Wish - A most inspiring and motivating story about complications from surgery that left me paralyzed and how I recovered.
Hard To Believe - Hard to believe, falling down the basement steps was one of the best things that ever happened to me.
Joining the Zipper Club - I joined the zipper club in 2004, this story should convince everyone not to dismiss a potential medical problem.
My Decision To Get A Dog Guide The story about my decision to get a guide dog was chosen as the 2007 first placewinner in the International Association of Assistant Dog Partners, IAADP, writing contest. It was truly an honor for this award for the best opinion story.
Walk A Mile In Her Shoes, 2012 - This is an interesting story why I wore ladies high heels one day. The story is very serious but written with a touch of humor. The program is a fund raiser for the Sexual Assault Resource and Counseling Center. This story contains some hilarious video and photographs. My story can make you laugh and cry at the same time. It is definitely worth the read to help stop and bring attention to a major problem. It took a lot of brave men to support women in this way. There is a very funny video of me using some powertools.
My Woodworking Story

Woodworking Ability
Woodworking Photo Gallery here are a few pictures of my wood working projects.
Bird house/ Planter Plans - Detailed instructions for a blind woodworker to make a birdhouse planter
More of my stories

Our Trip To Australia. - Purchasing a bottle of Jacob's Creek Wine, Australiaís Top Drop, we won a trip to visit the winery and made some very special friends.
Motivational Magic For many years I used magic as a motivational tool. Being a blind magician really inspired many people.
My Linking Ring story The Linking Ring The magicianís member publication was doing a story about brick and mortar magic shops. They are closing all around the country and this is the story that I submitted. My minds eye memories of pottsville - Something to be said for losing one's sight.
Photographic Journalism, A story of love.
A Story About Trinity - The kids of Trinity Lutheran Church sponsored a Freedom Guide Dog; this is a positive story about our youth.
Amateur Radio Stories - Several short stories about amateur radio.
Would You Like Some Cheese? - A very humorous situation that took place in an Italian restaurant.
Genuflecting-My introduction! - A funny story about accompanying a friend to his church.
I was almost in the movies! - A humorous event that happened to me during the filming of the movie The Distinguished Gentleman Starring: Eddie Murphy.
Ultimate Trust, Eighth Anniversary
MY THOUGHTS, CREATION VS EVOLUTION...
Indy Visits The Library
First Talking Computer I had the world's first talking computer linked to an IBM main frame computer. It is quite an interesting story.
My Guide Dog Discrimination story and some educational information



The New Jersey State Attorney issued a press release educating business owners, hopefully preventing future guide dog discrimination cases.


New Jersey Attorney General Press Release
Seeing and Hearing Similarities (almost unbelievable).

I had to place this story with the complaint since it ended up being a follow up.


If you have any questions about service animals in places of business in the United States, click here . for information directly from the U.S. Department of Justice, Civil Rights Division, Disability Rights Section. The information will be displayed in a new window.


Indy's Letter To The Editor - This is the first letter to the editor that I wrote with the hope of educating the public about guide dogs.
Big responsibilities face new guide dog 04/11/2007 - This is a letter to the editor written in the third person about Micah, my second Freedom Guide Dog, accepting employment in Pottsville. It has a touch of humor with a very serious message.
Micah's first public service 06/19/2007 - As a result of the letter to the editor about Micah accepting employment in Pottsville, we were invited to be the keynote speaker for a Good Will Industry award breakfast. I think I was also upstaged by a dog.
Freedom Guide Dog visits school - This is a thank you letter that I sent to the editor of our local newspaper. I spoke to my grandsonís 4th grade class about my Freedom Guide Dog. It may be used as a sample for anyone doing speaking engagements.
Bond spurs gift Published 07/26/2007 - This is a news story that appeared in the Pottsville Republican & Evening Herald.
I lost my independence, Published: Monday, April 6, 2009 - This is a news story about Toga, my new Freedom Guide Dog that appeared in the Pottsville Republican & Evening Herald. In the article there is no mention of Toga's name, Until we bonded I did not want anyone else to know and say her name. . When To Use A Cane
Guest Stories

Adversity: by Maureen Barnard - This is an extremely inspiring letter about Perseverance that all should read. Maureen wrote it after reading my be careful for what you wish story.
Really Flying Blind! -This is a very interesting and entertaining story about Alan Paganelli learning to fly. Alan was totally blind when taking pilot instructions. I also think that a lot of credit must be given to John Dunn for thinking out of the box. He used teaching a blind individual as a way to improve his teaching and piloting skills.

Blind Beatitudes
BLESSED ARE THEY that refrain from shouting when they speak to me.
BLESSED ARE THEY that talk directly to me and not to some one else.
BLESSED ARE THEY that say who they are when entering a room and say hello to me.
BLESSED ARE THEY that say goodbye to me when they leave so I am not left speaking to the air.
BLESSED ARE THEY that do not hesitate to say "SEE" when talking to me.
BLESSED ARE THEY who tap my shoulder gently when they approach from behind or from the side when speaking to me.
BLESSED ARE THEY who wait for me to extend my hand before shaking it.
BLESSED ARE THEY who place my hand on a object such as the back of a chair when telling me where it is, so I can seat myself.
BLESSED ARE THEY who do not leave me in a strange environment without orienting me to it.
BLESSED ARE THEY who offer me their arm so they can serve as my guide, instead of grabbing, pulling or shoving me.
BLESSED ARE THEY who come up to me in a large crowd and offer to help me when I appear disoriented.
BLESSED ARE THEY who do not embarrass me in a group of people by openly referring to my blindness in word or action.
BLESSED ARE THEY who laugh with me when I tell a joke related to blindness.
BLESSED ARE THEY who read me the menu and its prices and allow me to order my own meal.
BLESSED ARE THEY who take me to the cashier so I may pay for my own meal.
BLESSED ARE THEY who do not distract my guide dog from being my active eyes.
BLESSED ARE THEY who treat me like a human being, for like it or not I AM a human being.


- Author unknown



WHAT TO DO WHEN YOU MEET A SIGHTED PERSON? - A great sensitivity training tool!

Tips for a sighted guide Here are some tips for anyone who might have the opportunity to become a sighted guide.
My Family
Tribute To My Dad
Friends
Special Thanks This is a special thanks to the friends that twisted my arms to create this page. I will always be thankful that they did.
---
Product Reviews and Resources
Mutt Muffs, Hearing protection for your dog This is the story about Mutt Muffs and my guide dog Toga that was a featured news article in the local paper, there is also contact information for the product.
My Product Reviews Resources For The Blind - a very comprehensive list of links to products, services, games, support and other educational. In the other educational section you can locate information about guide horses.

---
CONTACT LENNY
NOTICE! PLEASE SIGN MY GUESTBOOK!
PHOTOGRAPHS
Tribute to Fred and Micah
Probably the hardest day of my life was February 10, 2009 when I lost my Freedom Guide Dog Micah. At a very early age not quite four years old. Micah developed a large mass in his bladder that could not be cured. This wonderful warm and full of life dog devoted himself to keeping me safe. Only as the illness increase he began to lose focus on his work but never lost his wonderful puppy playfulness. I am so very glad that Micah spent the last year and ten months of his life with me. Micah, I LOVE you and you shall always live in my heart.
To Fred: I,like every guide dog user, I am forever grateful to your kindness and unselfishness to take and raise these puppies only to have to return them. They are then trained to help blind individuals.
At age 88, Fred was Micahís puppy raiser. At age 90, shortly after Micah and I became a team, Fred was a victim of cancer. The last command that I gave to Micah was "Micah, go find Fred".
Photograph of Fred holding MIcah when Micah was seven weeks old.
Reprinted with kind permission of Freedom Guide Dogs.


Lenny and Micah
( Click image below to get a larger picture. )


---
Lenny and Indy
---
My Mind's Eye - The girls that graduated with me still look 18 years old.
I had to include this photograph. I have changed so much since high school that some classmates did not recognize me at my 35th reunion. When they went home and looked in their yearbooks, then they remembered me.
High School Graduation, June 1965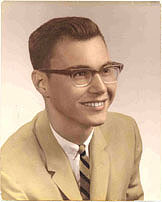 World tour
I am so humbled about the fact this webpage has inspired and helped people around the world. I really should have kept a list of the countries from which I received comments about the web page and how it helped them. Here is a list of what I can remember.
Australia
Canada
England
Germany
Ireland
Israel
Italy
Japan
New Zealand
Pakistan
Philippine Islands
Scotland
Sweden
It also has been viewed in almost all of the states including Hawaii and Alaska.
Webmaster's Corner
Site Last Updated: April 17, 2014
Created by: Mike Fisher
Maintained by: Lenny

You can visit Mike's Blog Site by clicking What's Happening, Vegas?


The Paciello Group home page - The Paciello Group is passionately dedicated to helping government agencies, technology vendors, e-commerce corporations, and educational institutions make their technology equally accessible to all people, including those with disabilities.

Welcome to the HiSoftware Cynthia Says Portal - The HiSoftware Cynthia Says is a web content accessibility validation solution, it is designed to identify errors in your content related to Section 508 standards and/or the WCAG guidelines. Unlike HiSoftware's Desktop Software, AccVerify, this online test only validates one page at a time.

HTML Help by The Web Design Group